About Director Ringo Lam

---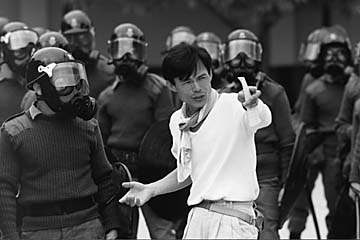 Ringo Lam directing the cast on the set of Prison on Fire II

---
About Director Ringo Lam
Just who is Ringo Lam?
For those who are unfamiliar with his films, Ringo Lam in my opinion is one of the best directors to come out of Hong Kong, largely contributed to the fact that he is one of the most original directors in Hong Kong. One who doesn't imitated from the best but rather set the standard and trend for future inspiring directors. Ringo recently brought his talents over to Hollywood, following the footsteps of Hong Kong director John Woo to direct the 1996 hit Maximum Risk . (starring Jean Claude-Van Damme)
Ringo Lam may be best known for his On Fire series which has earned recognition for being some of the most realistic films ever made. His 1987 crime drama City On Fire not only helped actor Chow Yun-Fat earned a Hong Kong academy award for best lead actor and also inspired writer-director Quentin Tarantino to make a startling debut with Reservoir Dogs in 1992. Prison On Fire is also one of the best prison movies to come out of Hong Kong
Known mainly as an action-film director, Ringo's film offers some of the most realistic action sequences ever filmed. His 1992 action film, Full Contact introduce the bullet point-of-view (POV) style which has since become one of Ringo's unique trademarks. Full Contact not only stands out as an action film but it's impressive visual settings helped make it one of the most stylized and cinematically self-conscious film.

---
Ringo Lam on comparsions to John Woo
"I myself would never compare myself to John Woo
I find his stuff very different from mine. His stuff is more heroic and mine is more realistic.Very different. And my action stuff tends to look more realistic.If I remember properly, my characters never do any flipping while they shoot! [Laughs] "

---
Ringo Lam on his fav leading man, Chow Yun Fat
"We joined the same actors' training class in 1973 and we have been friends for so many years. He understands me very much and I understand him very much.He's very easy-going guy and he knows that I'm some sort of evil or a devil when I'm shooting on the set. And that's fine because he understands why: What I'm looking for is making the right movie."

---
Ringo Lam on his unique style of film-making
"What I like to do is make up the story according to a formula and then break it down again,try to mess it up out of control. You shift it around and the audience will lose direction. They will find their emotions out of control. They will become more involved. I push the audience, that;'s the way I make stories."
---
Ringo Lam on the Tiannamen Square Massacre
"After all the bloodshed in Beijing, everybody is crying and showing so much emotions in the media. Almost every fifteen minutes the television repeats the same news.Everybody is so sad. OK, I feel sad too. But the thing lasted too long. After two-three weeks, I said "Can we break for awhile? Let's have the Dragon Boat Festival" All of sudden, everybody came after me. I said "I'm sorry" and I went to Singapore and stayed there for a month. There were threats sent to my company.After that,all my movies didn't get a good response"
---
About This Fansite
Finally, my second website is finally up and running, yet again dedicated to another talented action film director, Ringo Lam.
I started working on this webpage about the same time as I first took interest in Ringo Lam works but the idea never materialise until now. The reason this webpage took so long to materialise is because there was never enough information on Ringo Lam and his films on the internet, thus making it difficult for me to get insides on his latest films and pictures.
However I have decided to continue work on it, regardless of the fact because I have a deep respect for Ringo Lam and like what I did with my
John Woo fansite , I feel I should express it in some form.

---
click here to return